With the end of the camping season (for those not crazy enough to camp in the snow) coming to an end now is a great time to plan next year's trips and camping sessions. Here at The Solar Centre we're helping you on your way with 5 solar power tips for camping:
1, Avoid tripping over the guy-lines with pathway lights around the tent.
I do a lot of camping and my vision in the dark is ridiculously poor, especially at some of the camp-sites that don't have lamps or pathways for that matter. If I had a pound for every guy-line I've tripped over and woken somebody up in the middle of the night I'd be a millionaire by now. There is one easy solution and the craze is spreading quickly: use solar pathway lights or LED lights to mark the guy-lines. You would be surprised at how many people do this now. It's simple, effective, and will mark your tent out from the rest if you like going to big festivals and have trouble finding it again. Most pathway lights or LED lights also pack down to be really small and won't take up a lot of space in your kit bag.
2, Jazz up your tent and camp with fairy lights. Bring the bling to the party!
Who says camping has to be dull and boring with plain canvas tents or tents that are run-of-the-mill standard? Jazz it up with some solar powered fairy lights. Your tent and camp will look fantastic. (It's also a good excuse for a party and a few drinks around the fire!) Everybody will want to be at your party. Also, why stop at just the tent. When you aren't camping use the fairy lights in your own garden to highlight a tree, statue, or decorate an outdoor cinema or fire pit.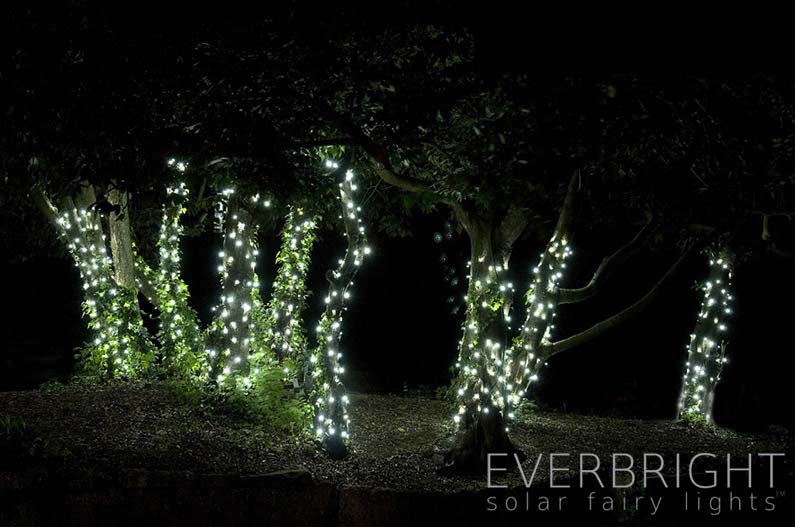 3, Need your phone for emergencies? Make sure you take a solar charger with you.
If you are somebody who cannot leave the grid for various reasons (i.e. you run a business and have to take every call, or have a few old friends who need to keep in contact, or children who may need to get hold of you, etc.) then be sure to take a solar power charger for your phone along on the camping trip – or any trip for that matter! Let's say you are going to deepest, darkest, Peru and they don't have power. The solar power charger can keep you going and going and going! Most solar power chargers also do more than just phones: batteries, camera's, iPods and iPads, notebooks, etc.
4, Take a solar power camping/torch light with you.
This sounds daft but a torch is usually the first thing I forget when packing to go camping. Even worse, you've remembered to pack the torch but once you arrive you find out the batteries have expired. There are plenty of options on the market from wind-up to solar powered torches. The newest is one that combines both wind-up and solar for the days spent in deepest, darkest, Peru! Everybody loves a good gadget.

5, Use solar power to cook your food.
Everybody loves a good barbecue but have you considered cooking your food using solar energy? Technology is improving every day and at rates which are in leaps and bounds. There is now a metallic tube which can boil water or cook meals using directed heat from the sun. There are also various other solar cooking methods – all of which surpass the fond Scout days of covering a cardboard box in aluminium and waiting for the food to cook. It is so simple and really effective.