Are you protecting your home from burglary? Check out what you can do to keep your property safe with our in-depth guide and checklist.
Burglary within the UK is one of the most common crimes committed, with a burglary happening every 108 seconds. They often have serious financial and emotional effects on the victims. According to the ONS Crime report, the average cost of a residential burglary in the UK is £3,030, in the year ending March 2019 the UK witnessed a total cost of almost £900 million from residential burglaries.
The seriousness of protecting your home is not something to take lightly. Luckily, with increased awareness, homeowners are becoming savvier to the necessity of protecting their valuables and loved ones. Analysis from Google trends shows an 11% increase in queries relating to "home security" over the past year within the UK.
Home Security Checklist
Here at The Solar Centre, we've devised a home security checklist which is loosely based on hints and tips by former burglars, as no one gives better advice on the subject than those with firsthand experience. This list is designed to be the ultimate guide on keeping your home safe.
Home security basics
Lock your doors and close your windows.
Ensure doors are sturdily installed.
Consider putting screws on your door frames if you are fearful your doors are not secure.
Steel is a perfect material and avoids the temptation for burglars to kick down your door.
Change your locks when you move in and if you lose your keys then get your locks changed immediately.
Don't leave keys under doormats or pots, instead find a more secure spot.
Keep your valuable goods away from windows.
It is important to protect your most valuable possessions, so we've collected data on how some of the most commonly stolen items have changed over the years. Are these possessions hidden safely away in your home?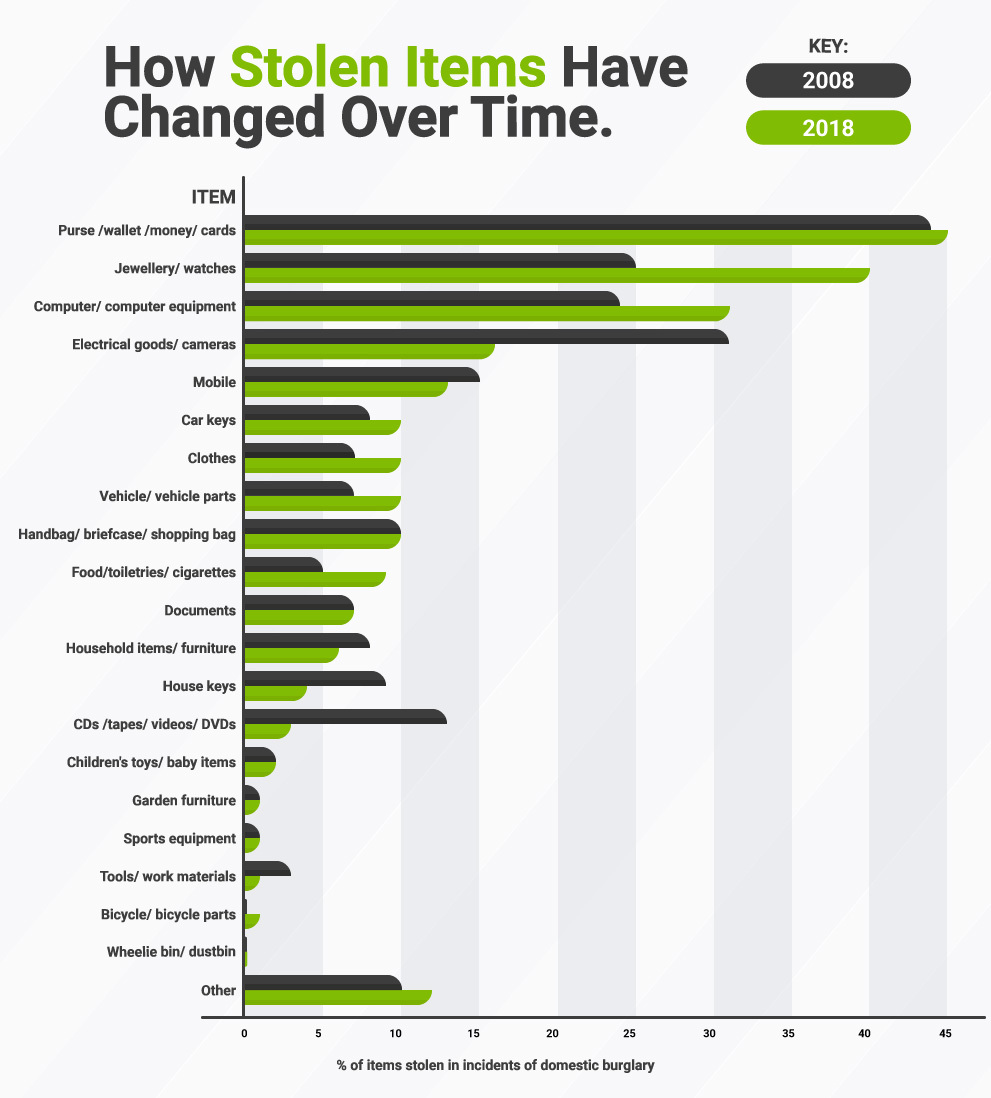 Make sure your presence is known (even when you aren't there)
Clear all old newspapers from your porch and letterbox.
Make sure you regularly open and close curtains each day and night.
Turn your lights on when in the house.
Consider a dog or train your current pet to bark at signs of disturbance.
Produce signs that highlight you have alarms and don't leave old alarms that are in poor condition insight.
Leave the radio on while you are away, the Nature of Burglary report estimates that 70% of burglaries happen on a weekday while homeowners are at work. If you believe radios are too cliché to fool burglars, investigate streaming some anti-theft home occupancy sounds.
Trim any plants back to ensure you are completely viewable to the street.
If you are worried about leaving your house alone, ask a neighbour to check in.
Avoid posting about any holiday on social media.
Be wary of your social interactions and surroundings
Stay vigilant to suspicious lurkers outside your home.
Never let anyone into your home without credentials (they may be checking out your valuables and security system to see if it is worth robbing you).
Do not let strangers in to use your phone or any other facilities.
Get the right equipment
Conceal wiring on your security system (this can be disconnected by intelligent burglars)
Avoid spring-latch locks as they can be loided, this is where an expert at breaking and entering slips a plastic card against the latch to unlock the door. Deadbolts are a far better alternative.
Investing in the latest security solutions is the best way to scare burglars. Worryingly the number of victims falling for repeat burglary incidents has risen 16% over the past year. Burglars have no reason not to return if they have been successful once, and considering they already know the best escape routes and types of valuables you have; it saves them time planning.
Spending Money On a Solid Security System
Keeping your home secure doesn't have to break the bank. Below we outline different home security choices.
Anti-theft home occupancy devices

Home Occupancy Sounds (Price estimate: free)

Some people don't trust simply using radios anymore. Hence, home occupancy sounds were invented as solutions for when you are going away for a weekend or long holiday. The idea is to play ambient mundane house sounds from a speaker as if to simulate occupancy. These are completely free and you are able to get these sounds on streaming services such as Spotify, Deezer and YouTube

Security Timer Plugs (Price estimate: £10-£20)

Another option for when you are away is a security timer plug. These will enable you to create the illusion that the house is occupied by setting a timer on lamps, televisions and radios.

Burglar Alarms

Smart Home Alarms (Price estimate: £190 – £600)

Described as the future of burglar alarms, smart home security has received a vast amount of interest in recent years. They operate as a traditional alarm but allow you to control it completely from your app on a smartphone or tablet.

Unsurprisingly, like all smart home devices, their unique functionality comes at a steeper price. However, typically smart home alarms are combined with an entire system (wireless security cameras, sirens, door locks and state of the art motion sensors). Systems can be instructed to record when certain things happen, i.e. a door opens.

Low-value devices can cost just £190, but for the whole security package, you would expect to spend up to £600.

Wired Alarm Systems vs Wireless Alarm Systems (Price estimate: depends on the size of home)

Hardwired alarm systems are renowned to be superior in terms of reliability. Furthermore, if your home is already prewired for a security system, wired systems will be very straightforward to install, hence it may be worth opting for this.

Alternatively, if you don't have a security system pre-installed, a wireless system may be the best option. Installation in this instance will be a lot simpler and there will be no necessary home modifications to make.

Another advantage of wireless systems is that they can be used in remote places where wired systems are unable to reach. Furthermore, the fact they're no visible cables means the system is next to impossible for burglars to tamper with.
CCTV

Night Vision CCTV (Price estimate: £100 – £250)

Considering for both weekend and weekday burglaries, evenings are the preferred time of day for 61% of burglaries, night vision is a worthy investment.

Depending on your budget night cameras can show black and white or sometimes coloured images of your home in the pitch black.

Mini Cameras (Price estimate: £30 – £99)

Typically employed for indoor security, mini cameras can be efficient in identifying burglars due to their inconspicuous nature, but for this reason, they are not recommended as a scare tactic. They can, however, also be a cheap solution for stairwell monitoring for small children and elderly relatives.
Door Security

The Nature of Burglary report also shows 70% of burglars came through the front door. Looking at greater depth, 29% of the time the lock was forced open, while 14% of the time the door was not locked. It may seem obvious but making sure your door is locked and the lock is bolted could severely reduce your chances of being burgled. A deadlock should be tested to BS 3621.

In addition to this, ensure your door frames are solid, estimated door measurements should be 4.4cm thick with 10cm hinges.

If you choose to further screw your door, ensure they are compliant to British Standard BS 7950.

Steel doors are preferred as they discourage burglars from kicking down your door. Wooden doors and doors with glass panels should ideally be changed if you feel you live in a high-risk burglary region. (link to burglary region table)
Driveway Security Bollards (Price estimate: £100-£500)

For some, cars are one of our biggest financial investments and as such can be a prize target to thieves. One popular security method here is to employ a driveway security bollard. These can be raised and lowered automatically on approach using a fob key. Alternatively, at a lower cost, homeowners can purchase a security bollard that requires manual action.
Garden Security

Sheds and garages are an easy target. Often homeowners sacrifice measures here in order to prioritize their budget with indoor security. Burglars know this and take advantage. Outdoor buildings are particularly vulnerable at night (78% of burglaries in a non-connected building near a dwelling happen in the evening). Hence combining security with night vision is wise. Padlocks on shed and garage doors fitted with battery-powered alarms can be extremely effective and cost just £15.

Security lights (Price estimate: £15 – £200)

Lights are a fantastic option for garden security. They can either be manually turned on or triggered by movement. Often, they are enough to deter burglars from coming again, as they act as an initial warning sign of your solid security system.
Window Security

Another important insight from The Nature of Burglary report shows 25% of burglaries in 2018 happened by intruders entering through a window. Apart from keeping windows shut and locked, make sure all windows are fitted to double glazing standards making the windows harder to break. Any new windows must be in line to the British Standard 7950/ PAS 24. It is also important to have alarms viewable or signs near windows to deter burglars.
Are Home Security Systems Worth The Money?
We've also taken the average cost of a security alarm (£500) so you can see how much you'd potentially save by investing in one.
We've collected data on the cost of burglaries to each region of the UK so you can see the average amount which is lost in your area.