Solar and security lights may seem like an unlikely partnership to the uninitiated, but they are actually a perfect match. Some solar sceptics reading this will no doubt chuckle at the idea of relying on solar for their security needs, but hear me out if you will.
Having been in the business for 8 years there is no doubt in my mind that motion activated Solar Security Lights outperform every other type of solar light. They do that by reliably serving the right purpose at precisely the right time of year (even though that right time of year happens to be the wrong time of year from a solar point of view).
As soon as the clocks go back in October and the nights draw in we start to think about security lighting. For manufacturers and retailers of solar lights, the clocks going back is like the grim reaper ushering in the end of days. For a start its one hour less of daylight (where solar lights would normally be charging) and one hour more of pre-bedtime darkness where customers expect their lights to work. It also heralds the beginning of real winter where only the best solar lights in the best locations will work as the sun struggles to make it above the garden fence for 3 months. In summer the UK gets an average of 7 peak sun hours a day, but this drops to just 1 peak sun hour in winter. This means that a typical solar light that works for over 8 hours a night in summer, will work for about an hour a night in winter.

The reason solar security lights work well in winter even though they are brighter than all other solar lights is simple – they are only meant to come on a few times a night as and when they detect motion. This means that they can continue to work reliably through extended periods of bad winter weather and recoup those losses when the winter sun makes an appearance.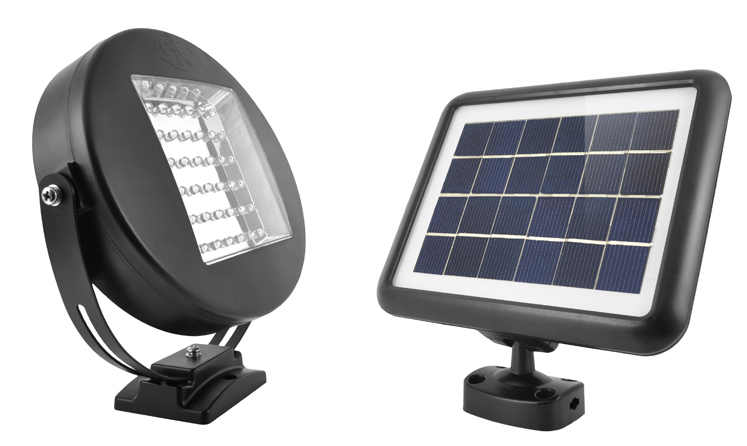 Lets crunch some numbers with our latest offering the Eye Solar Security Light (above).  The Eye can comfortably deliver 100 minutes of light once fully charged. The average customer will opt for 30 second activations each time the Eye detects motion giving them 200 hundred activations in a fully charged battery. Based on our own experiences, and those of our customers, a busy security light should not be activating for more than 20 times a night. Assuming your light activates 20 times a night you will have 10 nights worth of activations in the battery before any fresh charge is taken into account. A well located solar panel will give the Eye 10 minutes worth of light (20 activations) after a bad winter days charge, around 20 minutes (40 activations) after an average winter day and 30 minutes of light on a good winter days charge (60 activations).
The Eye will not compete with a 500W mains-powered halogen light, but it is more than a match for any 100W fitting which is more than good enough for most household applications. Unlike mains powered lights, solar security lights can be set up anywhere around your property without the need to run cables from your house which can be hideously expensive. You can safely install a solar security light yourself in minutes with minimal DIY skills so there's no need for an electrician. Best of all is once they are up and running they are completely free to run and will continue to work even if there's a power cut in your area.