Many people associate outdoor lighting with the holiday season or only for other special occasions such as birthdays or anniversaries. However, string lights can be used for a whole host of events whatever the time of year, or the type of occasion. Whether you are looking to decorate your garden during the festive period or just to spruce up your backyard and create an inviting and magical outdoor space to enjoy the summers evenings, we have a selection of products that are sure to fit your style, taste and theme. It's sometimes difficult to decide how to decorate a garden space, but string lights are an easy way to be able to add a touch of glamour to an open space.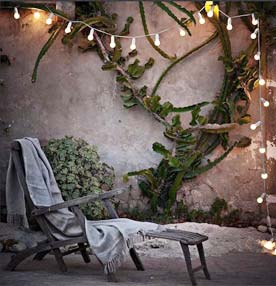 Click on the icons below for more information and reviews for each of our products. Should you need any other information, or require any assistance when making a purchase, please contact us to make your transaction as easy as possible.
String lights are incredibly versatile and can be used to decorate your outdoor space in a number of ways you could choose to weave them through tree or shrub branches, thread lights across patios and trellises, or create a canopy of lights by hanging them from an outdoor structure. It's a great way to not only incorporate a touch of style into your garden, but also to include some light for those late-evening parties. Done properly, and with good quality lights, they can really add sophistication to an otherwise plain setting. Whatever you choose to do you will be left with an ideal space for parties and al fresco dining, where your guests will be marvelling at how you've managed to transform your garden into a shining spectacle.
---