Great purchase very happy
Verified Purchase
Purchased these for patio area very happy with purchase they look great and good light, highly recommend just bought another two sets . Happy Customer
By Lorna J on Nov 12, 2023
---
Great product excellent service
Verified Purchase
Great service - Having enjoyed the Falmouth lights I purchased earlier this summer I reordered another set. I am very happy with their quality and performance. The lights are attractive, robust and still lit at 05:30 in the morning even after a partly sunny day. Excellent service is more than just posting boxes promptly, it's how you are treated when your delivery ­goes astray. My post code was one digit out on my second order and the lights went on a trip to the seaside. The prompt response to my emails from the Solar Centre was brilliant they were helpful and efficient in resolving the issue. I can recommend them as a good company to do business with.
By Pete on Nov 8, 2023
---
Bright Festoon Lights
Verified Purchase
I returned a set of Elan Solar Festoon lights which I received a refund for without any problem. I returned them because they weren't as bright as I expected and bought a set of Falmouth USB Solar lights. The Falmouth lights give a fantastic amount of light out with a choice of three different levels. Even the lowest setting gives an adequate Iight. I would thoroughly recommend these if you are looking for a good functional level of lighting and not just a decorative effect.
By Brian Talbot on Aug 8, 2023
---
Blown away how bright they are
Verified Purchase
So impressed with these solar lights, they are so bright they look like plug-ins, so much brighter than other solar lights I've seen, really glad I paid a bit more for these. The build quality is good with glass bulbs. 3 brightness settings. Only thing I would change is that there is a short distance between the solar panel and the first bulb - not an issue for me because we installed the panel on the fence but could be tricky it you wanted the panel in the ground (your bulbs would start halfway up the fence). Love them so much going to buy more!
By Lilly on Jul 13, 2023
---
Great Lights
Verified Purchase
Really happy with purchase. Easy to put up and gives off a nice light over a corner seating area. Would definitely recommend.
Customer Photos: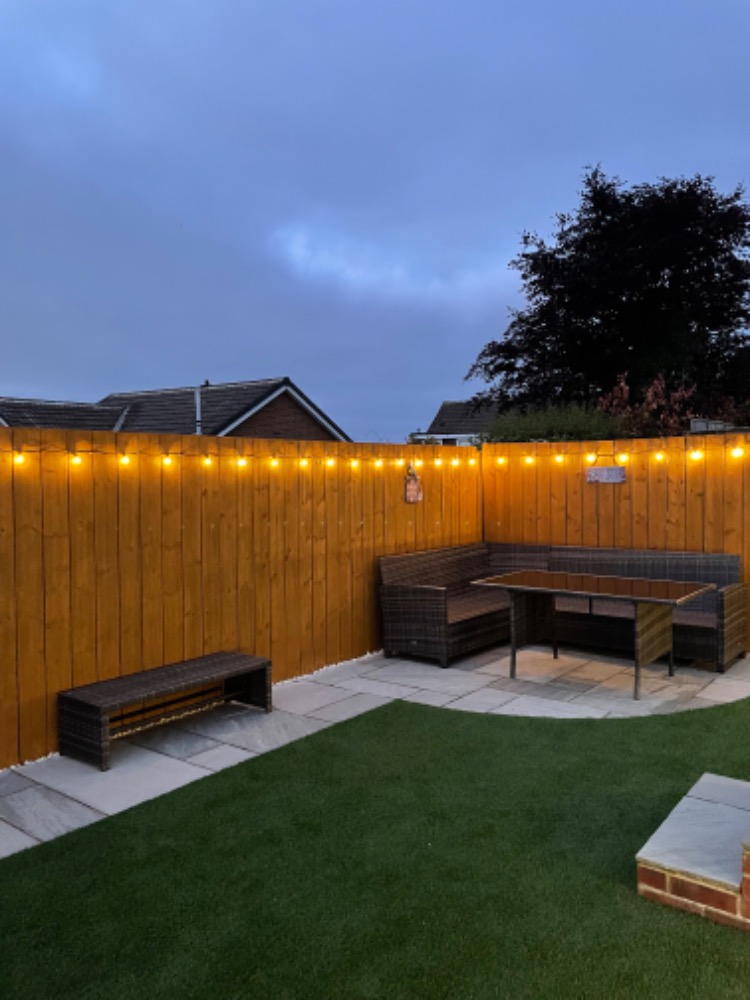 By Keith on Jun 16, 2023
---