Love this light
Verified Purchase
With Solar's brilliant guarantee policy my light was replaced just a few days after I told them the problem. I have bought several lights and have nothing but excellent service, thank you.
By Alison on May 8, 2023
---
Very cute light, just love it!
Verified Purchase
Charges quickly and has three settings, glows in the dark to create an interesting feature in the garden. Happy with my purchase. Will purchase again as presents at Christmas time.
By Weale on Apr 30, 2023
---
Solar cat
Verified Purchase
Fun and gives long lasting light, even after a dull day.
By Brian on Feb 11, 2023
---
Its Awesome !
Verified Purchase
bought this cat light and also the mood cactus. love, love, love it. im a massive fan of blue solar lights , when i can get them so this was defiantly on my shopping list as i love cats too, its really bright, but not had any sun to recharge it as yet, so im now hoping for a bit of sun, Would really love these in an option with no stake so they can be mounted on a fence or wall etc and different size options, but will defiantly be buying more
By kerry walker on Feb 4, 2023
---
Ideal inside porch light
Verified Purchase
Tonight, while fumbling for my door key in the porch, I noticed that this had been delivered by popping it through the porch window. Top marks to the delivery person. Ironically, I am just about to order a second one because this one has been re-tasked as a porch light. The battery/solar cell box being on a lead means that I can place it somewhere unobtrusive inside the porch and still put the light somewhere convenient. Top marks to the designer.
By Mike Allum on Nov 23, 2022
---
Looking Forward
Verified Purchase
Haven't tried the product yet as it's a Xmas present, but out of the box it looks good, and I'm looking forward to seeing it lit up.
By JKB on Nov 3, 2022
---
Love them!
Verified Purchase
We bought these to put at the front of our cat hotel. They work great, and recharge no problem during the short dark days where we live.
By Rebekka on Oct 30, 2022
---
Neon cat
Verified Purchase
Such a great, fun product. Glows all night until first light. Adds a great focal point. Will be ordering the star soon as this is soo good
Customer Photos: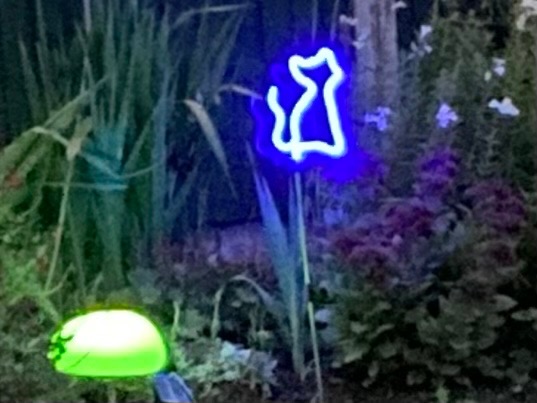 By Vivienne B on Sep 18, 2022
---