Need yellow!!
Verified Purchase
These have a light every 12 inches or so compared to others with a light every meter. I'm really disappointed you can't get the colour yellow. A greeny colour is the closest, hence my 4 star review, not 5. I did buy an additional two batteries as it only comes with one. They are lovely and bright and at 4 in the morning I think we could land a plane in our garden!
Customer Photos: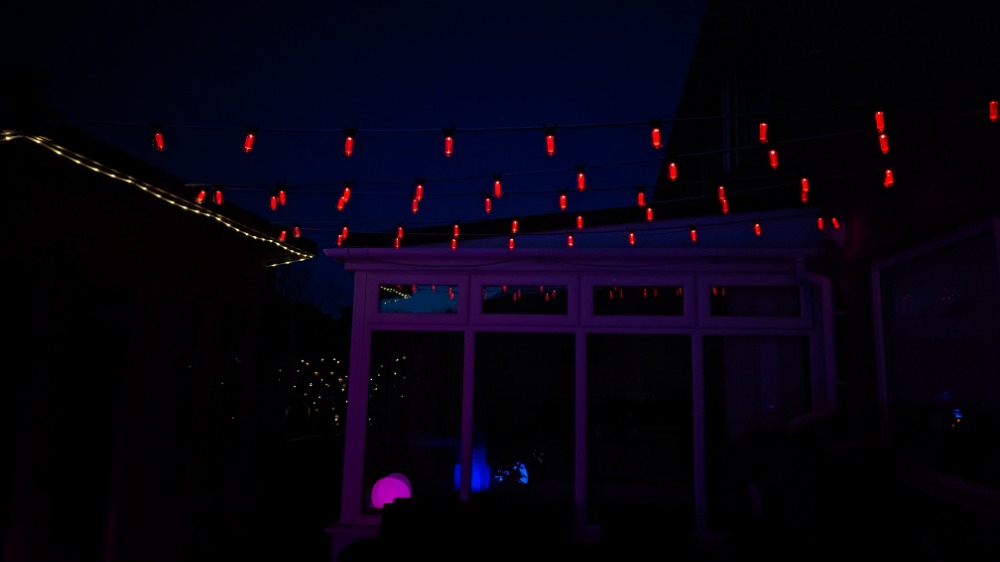 By Anna Taylor on May 30, 2023
---
Great Product
Verified Purchase
Great product at a great price! Clever 'App' for my iPhone Vey satisfied so far. Also got a great deal with 17% off
By Garry on May 3, 2023
---
Lots of lights
Verified Purchase
The best thing about these lights is the quantity of lights. My garden is pretty long and when draped along the fence, it went all the way to the bottom of the garden and then along the bottom. The app means you can control the color of the lights. Although weirdly, there is no selection for a normal white light. You can get vivid blues and reds, oranges, every other color under the sun! The closest I can get is a light yellow. They supply one battery but this has not been enough to power the lights for more than a couple of nights. I have to plug it into the mains for a proper charge. I'm ordering some more re-chargable batteries to see if that helps. They are not super bright, ie: they won't illuminate your whole garden but they give off enough light to look nice if you just want something decorative. I think the best thing about the product is the amount of lights you get. They seem well made.
By Lucy James on Jan 27, 2023
---
Disappointing for the price.
Verified Purchase
I have purchased a number of different products from the Solar Centre and generally been very happy with them. But this time I am disappointed. This product is supplied with only one battery, despite having capacity for three. The description says that this is to 'allow you to triple charge capacity', but my view is that if the product performs best with three batteries then it should be supplied with three! What I can tell you is that with only a single battery the performance is disappointing: 1. The lights are quite dim. They glow rather than shine. 2. In the current 'winter days' the charge does not last very long. The battery is being used up all the time, even if you switch off the lights via the app. I assume this is because they are maintaining a Bluetooth connection (looking for the app to connect). So the only way to get back to full charge is switch the lights off with the switch in the solar panel, so that the sunlight can do its work. Or you have to bring the entire panel into your house to recharge via USB. Both options are a pain to do. 3. You cannot set the lights to a warm white (yellow) colour. In the FAQs that it says you can set 'a vintage warm white colour', but this is not true – at least with the lights operating on a single battery. The yellow zone of the app's colour wheel is very small and selecting it gives you a green & yellow combination (more green than yellow). Green is the dominant colour of the colour selections, including the central 'white' area of the wheel. The colours you can get are green, red, magenta, purple, blue and aqua. It is possible these failings would be solved by installing three batteries but I have been unable to confirm this. The required batteries are not AA size, they are a much larger type 18650 Lithium Ion and these are quite hard to find. You can get them from places like Amazon, if you buy them with a product (such as a torch) or with an expensive dedicated charger. Also, you will find that usually these batteries have a built-in charge protection (so that they don't explode) making them too long to fit in compartment for this product. I did eventually find a site that supplies this kind of battery and ordered three Samsung brand batteries for just under £20. The instructions with the lights say that additional batteries must be 2200mAh to match the one supplied, or you can upgrade to a higher power battery as long as you instal three the same. I couldn't find any 2200mAh batteries – all the available ones were higher so that's why I had to buy three x 2500mAh. Unfortunately, when I installed them the lights didn't work at all. So that was £20 down the drain and I still have the lights with their disappointing one battery performance.
By Peter on Jan 26, 2023
---
Good quality
Verified Purchase
The lights are great colours are pretty good and quite bright considering they are solar it's nice that there is a good sized battery and space for two more if needed the length of the festoon is long and with fifty bulbs will fit most peoples needs they are expensive but well made so I hope they will last for quite a while. I got a different set of lights to the ones I ordered and had to return them to the solar centre and after a week I am still waiting for the refund on the postage I had to pay apart from that I am happy with the product although the customer service is dreadful.
By Philip Taylor on Oct 8, 2022
---
Advance USB Solar Smart Festoon Lights - Set Of 50
Verified Purchase
These lights are superb. So many bulbs, lovely bright colours and easy setup. Even the app is simple to use. Initially I was hesitant because of the price, but these are a quality product and because solar, have zero running costs. Solar centre solar panels are very reliable as well. I've got a number of their other products that switch on every night even though winter, so I new the price was justified. Only problem is, every time they bring a new product out, I can't resist making another purchase :)
By A. Thomas on Sep 23, 2022
---