Eco Wedge Plus
Verified Purchase
Bought this to light a patio area and liked the idea of having a remote. I was apprehensive that it wouldn't be as bright as a mains powered equivalent but didn't need to be (as the photo shows). There are different modes to suit every requirement and it charges well even on cloudy days. Highly recommend and will soon be buying another.
Customer Photos: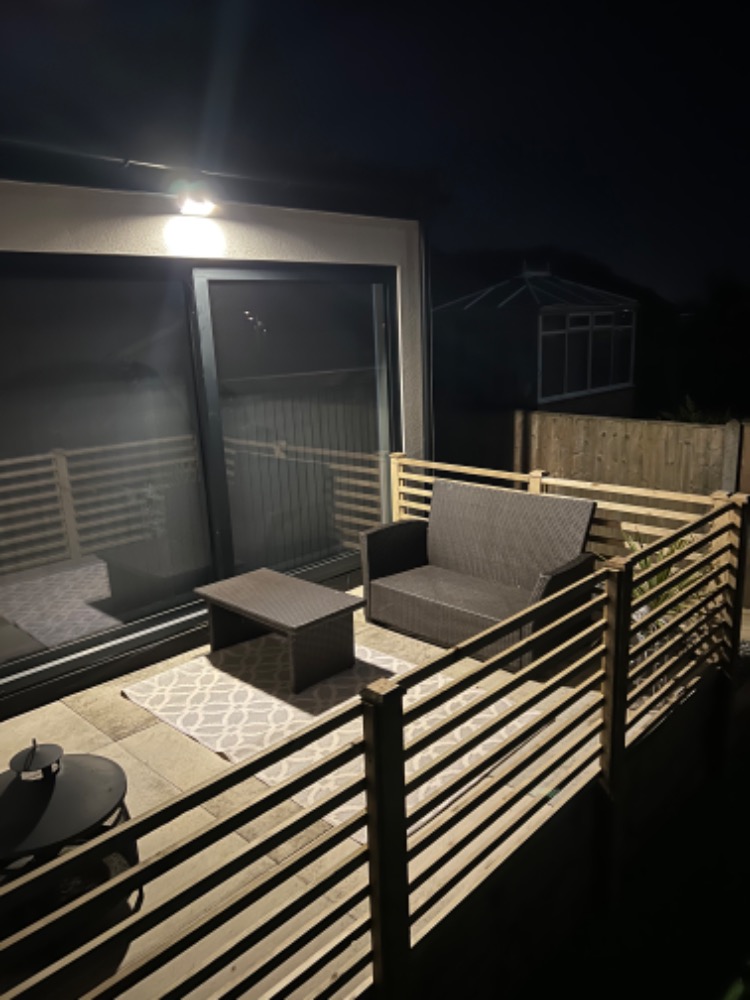 By Jack on Mar 6, 2023
---
Eco Wedge Plus
Verified Purchase
Bought this to illuminate a dark year of the garden that would have been difficult to reach with mains power. Very easy to install, though as it is in direct sunlight only for a couple of hours every morning, and in the vicinity (though not actually beneath) two ancient yew trees to the south, I had my doubts about how it would perform. It's far outstripped expectation. Initially I thought my fears were justified, until I realised it has two brightness settings, on the higher of which it's plenty bright enough to illuminate a good area and, since it turns itself off after only 15 seconds in PIR mode, unlikely to deplete the battery even in winter. The remote control means that you needn't compromise with an unnecessarily long "on" phase as you would with a mains light, since, if you need it on for a longer period, - eg if you're working in the illuminated area - you can simply set it to a different mode. Excellent, eco-friendly solution.
By Andrew Grant on Sep 21, 2022
---
Really useful
Verified Purchase
Finally, a solar light that is worth having to light up the outside of the house when people arrive. Warm light, which is much nicer than the harsh mains versions.
By John Walker on May 8, 2022
---
ECO Wedge
Verified Purchase
The first one we bought was so good we purchased a second one. We have placed this one on the path leading up to the front door saving the use of the electric one.
By David V on Feb 24, 2022
---
ECO Wedge
Verified Purchase
I am 82 yrs old and not very tech savvy but was able to fit this light in a few minutes to illuminate an area down 2 steps where my bins are stored. With the dark nights now with us in Aberdeen I was amazed how effective this light was to help my safety. Thank you.
By Bernard Mulroy on Nov 20, 2021
---